In the late 50's and early 60's,
(when I was in the shape to wear them!)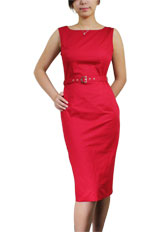 A classic dress
from a half century ago
simple sheath dresses were in style.
Times have changed (along with my size and shape) so
today, being creative and frugal cheap, I am going to
introduce you to the SHEET dress.
In the mid 60's the tent or trapeze
dress came into fashion. I had this actual pattern (and even in this size).
I have just discovered "vintage" patterns (40s, 50s, 60s) are making a comeback in the pattern books---at about $16.00 each. A pattern similar to this 50 cent one may be among them.
I like loose dresses for summer wear --- at least around the house. They may not be cool in the fashion sense but I find them much cooler than pants in the practical sense.
Sew So . . .
I was at our local fabric store this past week, hoping to take advantage of their 50-percent-off one-cut-of fabric-coupon. Ha! Even at their half-price, the cost per yard was more than double what I was comfortable paying.
My next stops were the thrift shops!
I found a cute full/double size floral patterned sheet for $2.00 and a bright yellow with print border queen set for $3.00. All, while used, in excellent condition with the added bonus of being softened by washing and drying.
There is enough material in this $5.00 worth of fabric to make
dresses with lots of left over for other projects! I might use some
to make crib sheets for our expected granddaughter.
I have a tent-style dress that fits well so I laid it out and drew around it, making my pattern. Besides being cheap I am lazy so I thought creatively and laid out the pattern so the hem of the sheet became the hem of the dress!
Except
mu-mu type, not nightgown type
I have a previous thrift-store-purchased sheet
I have been using
as a summer tablecloth. It is bright sea blue with large, also bright, tropical fish. It is about to become a
dress also---possibly one with an
gathered neck similar to the one shown here.
Flat Sheet Measurements
(Keep in mind that a yard of fabric, no matter what width, is 36 inches in length so even a single flat sheet provides a little over 2 yards of 39-inch fabric.)
Sheet for single bed - 39 inches wide by 75 inches long
Sheet for double (also called full size) is 54 inches wide by 75 inches long
Sheet for queen bed is 60 inches by 80 inches
Sheet for king bed is 78 inches by 80 inches
Think what you could make with flannel sheets! Pajamas, Diapers, Crib Sheets and More . . .